Our collaboration with @Emelia_Jackson and our Thunder Blue Richmond Deluxe Gas Through Glass Range Cooker
5 min read
Thinking of giving your kitchen a summer makeover with a splash of colour and brand new Belling oven? It's a good idea, take it from someone who knows because for @EmeliaJackson that dream came true! Read on to learn about her experience with our Thunder Blue Richmond Deluxe Gas Through Glass Range Cooker.
Emelia and her family are based in a comfy modern deco style home in Melbourne! The house was renovated before they bought it, with geometric tiles, simple white bench tops and MDF cabinets, but that hasn't stopped them from adding their own spark of personality such as a pop of colour from a Belling Range Cooker. Aside from lacking an island bench, Emelia's kitchen is big and beautiful with a huge pantry and now a Belling cooker to match, as she says herself, what more could a girl want?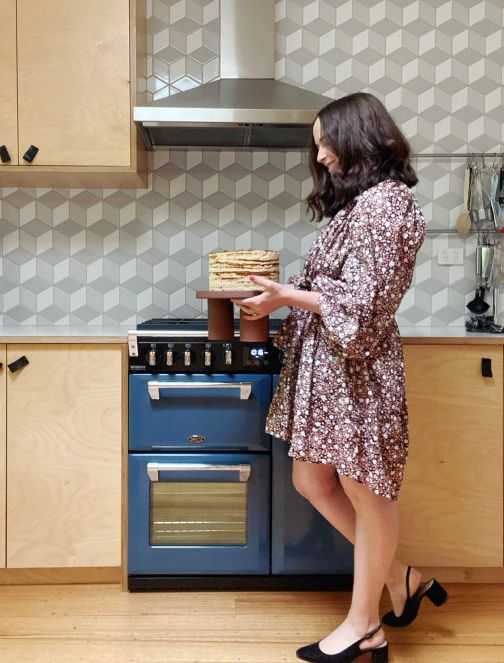 Emelia loves the vibrancy of the Thunder Blue Range Cooker and we can't help but agree! It really stands out amongst the rest of her kitchen which is in greys, whites and timber. This puts the cooker at the centre, the heart of her home. Now Emelia has been inspired and says she will bring in some kitchen-themed artwork to bring more colour in, now that she has blue, she can't stop! It's a real show-stopper.

Of course, it's not just about the aesthetics. Emelia spends so much time in her kitchen, testing out recipes for her baking book, making dinners, preparing food for the baby, etc, so she needs an oven that's intuitive because who has the time to read instructions! Luckily the Belling range cookers are easy to use and though she hasn't tried all the features yet (she's saving slow cooking for winter!) she's having fun exploring what the cooker can do. With our innovative Proflex Cavity Splitter this range cooker features four separate ovens, perfect for cooking up a feast. As Emelia says, it's a dream oven, so consistent in its heat distribution that anything she puts in there comes out perfectly!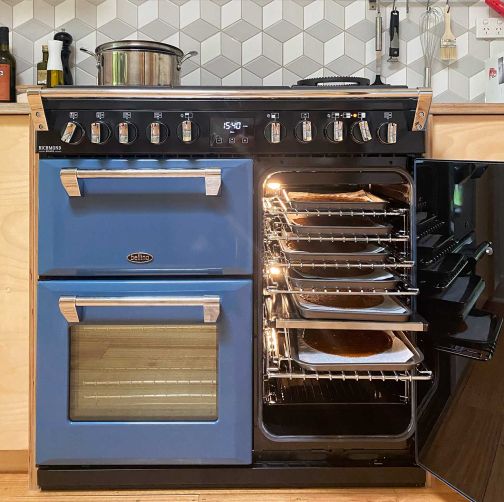 When most of the day is spent in the kitchen, you want it to be a beautiful, inviting place, and that's what Emelia calls it: her happy place! Now that she's got the Belling range cooker she simply wishes she had more time for some long, rainy day cooking projects like croissants to really make the most of it. As a baker herself, she loves the precision the range cooker offers, which is very important in baking. So far she's made perfect macarons, a Russian Honey Cake, eclairs, financiers and a cheesecake. And she's loved the proofing function for yeasty bakes too!

So what's Emelia's favourite thing about her oven? Everything! But especially the personality it brings to her kitchen. She's seriously excited to smash out her Christmas day spread all at once with the multiple oven cavities and the split system meaning she can cook literally everything at the same time. She's practically buzzing with excitement for that, and we would be too!

So if you're looking to upgrade your kitchen and stir in some vibrancy, then our Colour Boutique Range Cooker comes in a variety of colours that are sure to wow whoever walks into your kitchen. And it'll wow them with a stunningly cooked spread, too!