Tonka Macarons - Emelia Jackson Recipe
on | 6 min read
As you all may have noticed, Emelia Jackson is pretty obsessed with my brand new belling oven (she has the Richmond 90cm Gas Through Glass, in Thunder Blue for those curious!). She thought, what better way to test the new beauty than Macarons? They are notoriously tricky little buggers and often you can do everything right but when it comes to the baking, they crack and flop. Not this time though, her Belling handled them like an absolute pro. Check out her favourite recipe for the shells below. She has sandwiched these with a milk chocolate Tonka Bean Ganache but you can fill them with any flavour you love.- Emelia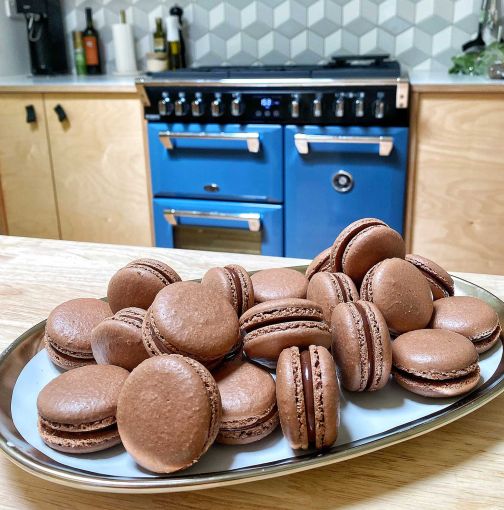 Ingredients:
100g egg whites
90g caster sugar
130g almond meal 
120g icing sugar mixture 
20g cocoa powder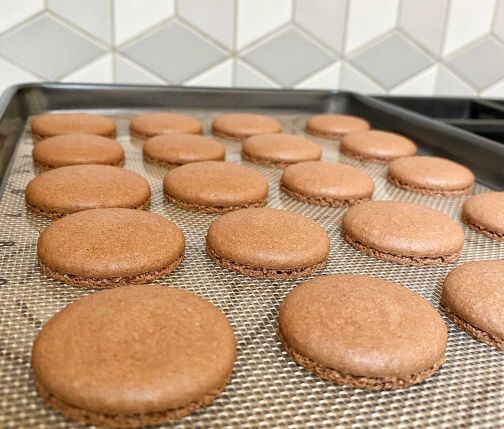 In a food processor, combine the icing sugar, cocoa powder and almond meal together and pulse until fine.
In a stand mixer, begin whisking the egg whites until foaming. Gradually add the caster sugar, a tablespoon at a time, and continue to mix until you have a thick, glossy, french meringue.
Add the dry mix to the french meringue and begin folding through, we are looking for the mix to have a beautiful gloss to it and a ribbony consistency. Transfer to a piping bag with a 1/2cm nozzle.
Line a baking tray with baking paper or a silicon mat, and pipe the macaron into 20c sized pieces, allowing room for them to spread. Tap the baking tray 4-5 times on your bench to release any trapped air bubbles within the shells. 
Allow the macaron shells to sit for a minimum 30 minutes before baking. I've baked these in the multifunction oven, at 150C, on the convection setting for 13-15 minutes. Once baked, allow to cool completely on the baking tray otherwise you will tear the bottoms off the shells before filling.