Russian Honey Cake - Christmas Remix! - Emelia Jackson
on | 6 min read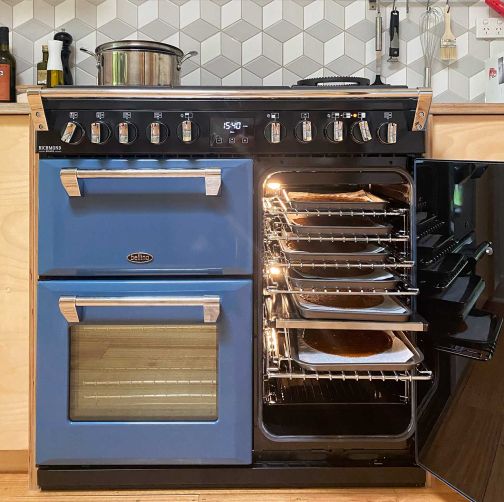 Emelia Jackson has whipped up a delicious Russian Honey Cake on her Belling just in time for Christmas!
Millions of shelves meant I had to bake this cake immediately. The Russian Honey Cake - Medovik - is not only an absolute show stopper to look at, but incredibly delicious too. I've given it a Christmas remix by adding gingerbread spices to the honey cake layers - the best part is that you can make this a few days in advance, so no stress on Christmas Day. I was able to bake all 12 layers of the cake in 2 batches in the 94L tall oven (a dream!)
For the Cake Layers
65g golden syrup
250g honey
225g caster sugar
200g unsalted butter
6 eggs
2 ½ tsp bicarbonate of soda
1 tsp fine salt
1 tsp ground cinnamon
1 tsp ground ginger
1 tsp mixed spice
450g plain flour
Dulce De Leche Honey Cream
50g honey
1 x 397g can dulce de leche
600g thickened cream
300g sour cream
Pinch of salt
Instructions
Preheat the dual oven to 180C and trace 9 inch / 23cm circles onto 12 sheets of baking paper.
For the cake batter, combine the golden syrup, honey, caster sugar and butter into a medium sized saucepan and slowly heat until the butter has melted. Allow to cool before whisking in the eggs and bicarb.
Take ⅓ cup measurements of the batter and scrape out onto the baking paper marked with their circles, spreading out with an  offset spatula. Bake the layers for 8 minutes and set aside to cool.
Using a 9 inch cake ring - or you can cut out a 9 inch circle from baking paper - mark the cakes into perfect round and using scissors trim to size. Take the trimmings and return to the still warm oven to dry out in the residual heat. Once the trimmings are cool, use a food processor to blitz to a crumb for garnishing the cake.
For the cream, combine all of the ingredients and whisk to stiff peaks.
To assemble the cake, place some of the icing onto a cake board / plate to act as "glue". Top with a layer of cake then spoon over a ¾ cup of the dulce cream, flattening it out with an offset spatula. Repeat until all cake layers have been used, finishing the top of the cake with dulce cream. Use any excess cream to spread around the sides of the cake.
Place the cake in the fridge overnight - a necessity to allow the cake layers to soften and absorb all of that honey / dulce goodness! Cover the sides of the cake with the cake crumbs and serve at room temperature.