Hot Cross Buns - Three ways with Emelia Jackson
on | 4 min read
Can't decide which recipe to bake for your family this Easter? Baking Extraordinaire and Master Chef winner Emelia Jackson has you covered with three delicious Hot Cross Bun recipes. Using the proofing function for the perfect quick rise and baking in the multi-function oven of her Belling Range Cooker for an even golden crust.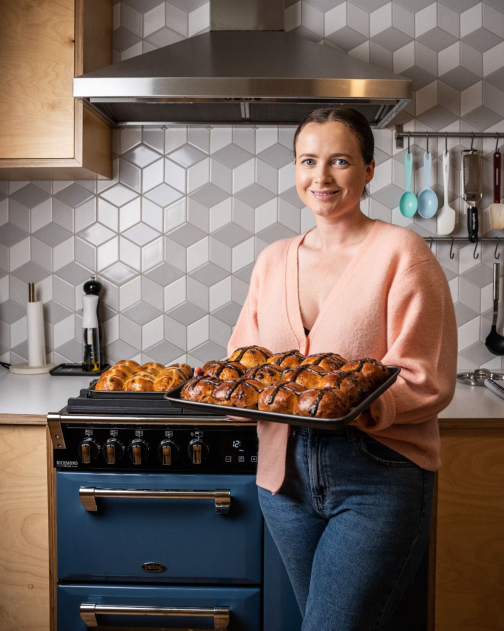 Recipe:
Tangzhong
30g bread flour
130g full cream milk
Dough
All of the tangzhong paste
200g milk
20g caster sugar
8g instant dried yeast
1 tsp salt
1 egg, at room temperature
370g bread flour
60g unsalted butter, softened
Method:
For the tangzhong, combine the flour and milk in a small saucepan and cook over medium heat until it becomes a thick paste.
In a bowl of your stand mixer fitted with the dough hook attachment, combine the tangzhong, milk, caster sugar and yeast and mix briefly to cool down the tangzhong. Next, add the salt, egg and bread flour and increase the speed of your mixer to medium to begin kneading.
Once it has come away from the sides of the bowl, add in the butter and mix until incorporated.
Lightly oil a large mixing bowl, place the dough in and cover with cling film and place into the multifunction oven set to proofing.
Leave the dough to rise for 30 mins or until it has doubled in size and then knock it back (the best bit!) - Add in your flavours:
Traditional:
2 teaspoons mixed spice
200g mixed dried fruit
Apricot, cherry and orange:
150g dried apricots, diced
100g dried sour cherries
30g candied orange zest
1tsp cardamom
Chocolate:
250g chopped left over Easter chocolate
The cross
70g plain flour
70g water
100g apricot jam, to glaze
Method:
Add in your chosen flavourings to your dough and mix in by hand. Divide into 12 pieces and roll into balls. Place on a baking tray and return to the oven set to the proof function to rise for a further 30-45mins.
200C.
For the cross, combine the flour and water into a paste and transfer to a piping bag. Snip a small opening off the end of the bag and pipe crosses over each bun.  Bake for 25-30 minutes at 180c fan forced or until the hot cross buns are a light golden brown.
For the glaze, microwave the jam for 30 seconds - 1 minute to liquify and while the buns are still hot from the oven, brush liberally with the glaze. Allow to cool and eat with so much butter that it looks like a slab of cheese.