Fetta & Chilli Roast Tomato Tart, With Minted Broad Bean & Asparagus Salad - The Zin House
on
When the garden is bursting with fresh organic produce, the resident chef/owner at The Zin House Restaurant, Kim, is in no shortage of ingredients. This tart uses three simple seasonal recipes that are perfect for the end of summer and early autumn. The roast tomato & chilli sauce is an especially useful way to preserve the large amount of tomatoes our garden produces for use all year round.

Kim whipped this up in about 45 minutes using our Belling Oven, and it generously feeds 4 people as an entree or light meal. The roast tomato & chilli sauce is an especially useful way to preserve the large amount of tomatoes our garden produces for use all year round, we suggest trying it with pasta or alongside homemade sausage rolls also.
Ingredients:
Tart Base
400 grams sheet puff pastry
(We make our own, but Careme & Pepe Saya have authentic versions if you'd prefer to buy it.)
200 grams High Valley fetta  
(This is a Persian style that we are lucky enough to have produced in Mudgee. But any good quality crumbly, creamy style will work.)
Roast Tomato & Chilli Sauce
(We make miles of this while the tomatoes are in season and then can enjoy it in a variety of ways year round.)
2 kg very ripe, flavoursome tomatoes

1 medium red onion

2 or 3 red chilis

250ml good quality extra virgin olive oil

125ml chardonnay vinegar

Several cloves of peeled garlic

Small bunch of fresh thyme 

Good quantity of sea salt and freshly cracked black pepper
Minted Broad Bean & Asparagus Salad
1kg Broad beans (approx 100g hulled and peeled)

1 bunch Asparagus

1 bunch Mint

1 bunch flat leaf parsley

100ml extra virgin olive oil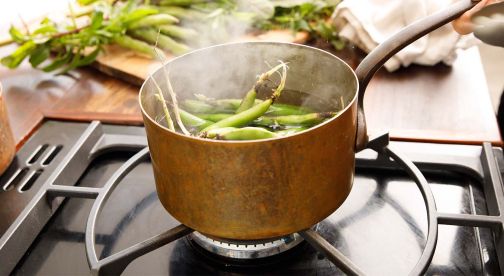 Method:
For the roast tomato sauce  
Preheat one section of your Belling oven to 180 °C

Roughly chop the tomatoes, red onion, garlic & chilli. 

Combine these with the remaining ingredients in a bowl and toss together.

Place in a heavy based pan and roast in oven for 30 minutes, stirring occasionally.

Keep chunky & set aside for use on the tart. For any leftover mix, roughly pulse in a food processor for use as additional serving sauce with the tart, or place in a sterilised jar while hot for another day. 
For the tart base
Preheat another section of your Belling oven to 220 °C

Fold the sides of the sheet of puff pastry to create an oblong sheet with edges to hold contents. 

Bake in the hot oven until golden brown, approx 10-12 minutes. 
For the bean & asparagus salad
While the pastry is cooking, peel the broad beans and cut asparagus into smaller pieces. If beans are very young you can single peel them, or double peel the bigger beans. 

In a pot of boiling water blanch the broad beans & asparagus (or lightly grill if preferred). 

Toss the cooked beans and sliced asparagus in a bowl with shredded mint & parsley leaves, olive oil and lemon juice (or verjuice). 

Season with sea salt and fresh cracked black pepper.
For the assembly 
Crumble the fetta over the cooked puff pastry and add a generous amount of the roast tomato mix, then return to the oven briefly to warm through. 

Remove from the oven and pile the salad on top of the tart. 

Serve immediately, with extra roast tomato & chilli sauce on the side.