Charred Pumpkin with Goat Curd & Zucchini Flowers - The Zin House
on | 3 min read
We're so excited to share the latest collaboration between The Zin House Restaurant and our team! This month, Zin is celebrating the beginning of pumpkin season. In fact, you'll find pumpkin vines snaking their way through the organic and biodynamic permaculture gardens at The Zin House, which means it's time for their chefs to start experimenting with new dishes for the seasonal menu. Check out their Charred Pumpkin with Goats Curd & Zucchini Flowers!
Ingredients
1 medium pumpkin

4-5 cloves of garlic

Several sprigs of rosemary

A handful of sage leaves

1 small bunch of chives

1 lemon

1 tablespoon of tahini

100 gm goat curd

1 fresh peach (sliced)

1 cup of assorted nuts for dukkah (we used almonds, walnuts, pistachios, pepitas & sunflower seeds)

A handful of baby rocket

Olive oil

Fermented zucchini flowers (optional)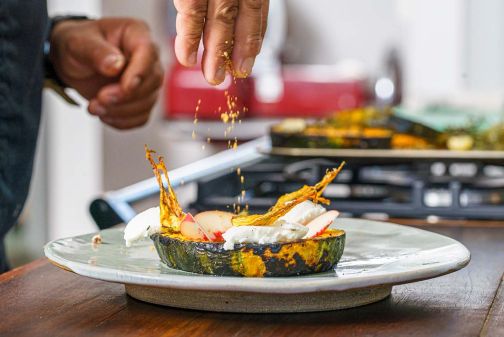 Method
Note: If adding zucchini flowers to your dish, you'll want to prepare these ahead of time. In an airtight jar, submerge the zucchini flowers in a brine of water and salt for 1-2 days before cooking the dish. Leave in a shaded spot at room temperature.
Preheat your Belling oven to 180 degrees celsius.

Cut your pumpkin into thick slices & remove any seeds in the centre. Cover with salt & olive oil.

To char the pumpkin steaks, place a hibachi grill or a metal baking rack on top of your gas burner and turn it to medium heat. Place one of the pumpkin steaks on the rack and cook until charred on the flesh and edges, then flip to char the other side. Set aside & repeat with the remaining pumpkin steaks.

If using the zucchini flowers, take them out of the brine and squeeze to remove moisture. Lie flowers on a baking tray and season with salt & pepper, then place in the oven for 25 minutes, or until crispy.

Once all pumpkin steaks have been charred, place them on a tray, drizzle with olive oil & salt, layer with the rosemary, sage & crushed garlic, and place in the oven for 15 minutes or until cooked through.

Spread the nuts for your dukkah on another tray and place in the oven for 8 minutes, shaking them half way through to cook evenly. Once roasted, use a mortar & pestle to crush the nuts into a coarse dukkah.

To make the tahini dressing, add a generous glug of olive oil, salt, pepper, the juice of one lemon, and a tablespoon of tahini to a bowl. Mix until well combined, adding more juice/olive oil for a thinner consistency, or more tahini to get a thicker consistency.

To plate, place one pumpkin steak in the centre of your plate. Drizzle tahini dressing in the middle of the steak, and place peach slices, zucchini flowers & goats curd around the edges of the pumpkin. Add the baby rocket in the centre of the slice and scatter dukkah & chopped chives on top.